CONSTITUTION DAY LECTURE
BY
TED SHAW '76
Looking Backwards, Lookng Forward:  The Persistence of Race in Twenty-First Century American Life"
Tuesday, September 17 at 7:30 p.m.
Smith Reading Room, Olin Library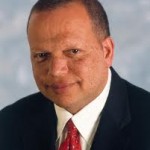 Ted Shaw is Professor of Professional Practice at Columbia University Law School and of counsel at the international firm of Fulbright and Jaworski.  He served as director-counsel and president of the NAACP's Legal Defense and Educational Fund from 2004 through 2009 and as a Wesleyan Trustee for 15 years.
NOT TO BE MISSED!