Last March, Professor Fred Cohan told me that I had to see the glaciers before they melted in five years and that he just wasn't going to take me telling the National Park Service "no" for an answer.
Mid-July, I was stranded on a dirt road on the wrong side of the Continental Divide while the Reynolds Creek Fire grew from 1/2 and acre to 4,000 acres, jumped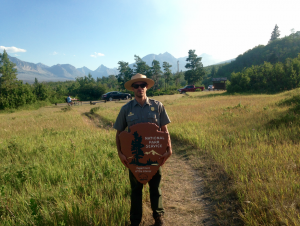 and melted the Going-to-the-Sun Road, and blazed towards my home at the Saint Mary Ranger Station in Glacier National Park. What should've been an hour drive turned into a 14 hour detour and when I got home just before midnight, my boss told me that we were not only witnessing history, but we were becoming part of it – and then added that we might only be given 10 minutes to pack our belongings when the time comes to evacuate so I better get on that. I soon loaded what I could into my government-issued truck, and headed for West Glacier, as I drove out of the Saint Mary Valley and watched the mountains I had grown to love burn.
While I was on evacuee assignment, I was relocated to the park's rural Northfork Area, which requires a 40 mile dirt road to access. My campground ranger training meant nearly nothing to my new duties: backcountry patrols, checking boats for invasive clams and muscles, and using a motor boat to access backcountry campsites. Additionally, I spent a good amount of time on my first day in the Northfork within 10 feet of an aggressive, habituated bear and her yearling, as I attempted to keep visitors at a safe distance while I called for backup (on a radio whose signal was lost in the unique shape of the valley I was in).
When the fire was at 20% containment and we were allowed back in our homes, I came out of Glacier's Northfork more confident in myself and I am looking forward to bringing Glacier back to Wesleyan.
While I still have not fully processed everything from this summer, I am so grateful to my advisor Fred Cohan for pushing me into accepting a terrifying, challenging, and life-changing experience that made me so in touch with Montana, with the Crown of the Continent Ecosystem, and with myself.  I hope to return to the wild west as soon as I can and hopefully I'll spend next summer working as a Backcountry Ranger back at Glacier.
If you'd like to get involved in the National Park Service, check out usajobs.gov or the Student Conservation Association (https://www.thesca.org/), or come find me!