Attention Musicians!
Did you know there is a Music Rehearsal space available in Usdan?  In this room are amps, a drum set, piano and microphones – all that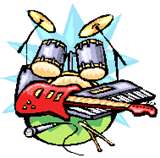 you need to rehearse with your band or on your own! If you are interested in pre-reserving this room you must become a member of the Usdan Student Music Co-Op (USMC) – which is a WSA funded group that maintains the space.  Otherwise, you may only reserve the space on a "walk in" basis on the day of your request at the Usdan Information Desk or by calling ext. 3566.
For those of you who are already USMC members, you have been able to book the room thru the end of drop/add.  In order to be fair, any reservations that were made after September 15 have been cancelled.
To pre-reserve the room and become a USMC member please fill out this online form. Please fill out the form by Monday, September 16th (at the latest) so that we can begin the booking process and get everyone in the system as soon as possible. You can also access the form through the Usdan Website – www.wesleyan.edu/usdan
Thank you for your patience!