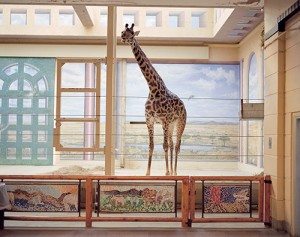 ANIMAL DIGNITY AND AN ETHICS OF SIGHT
Photography by Isa Leshko and Frank Noelker

Tuesday, September 23 through Friday, October 10, 2014
South Gallery, Ezra and Cecile Zilkha Gallery, Center for the Arts
Presented in conjunction with the launch of Wesleyan Animal Studies Course Cluster.
Curated by Lori Gruen, Professor of Philosophy, Environmental Studies,
and Feminist, Gender, and Sexuality Studies.
GALLERY TALK
Friday, September 26, 2014 at 4:30pm
CLOSING RECEPTION
Thursday, October 9, 2014 at 5:30pm
Visit here for more information about the exhibition.

On view through Friday, October 10, 2014
Gallery Hours: Tuesday–Sunday, Noon–5pm
FREE!
Above: Frank Noelker, Giraffe, Washington D.C., 1997, color photograph
EZRA AND CECILE ZILKHA GALLERY
Center for the Arts | Wesleyan University | Middletown, Connecticut