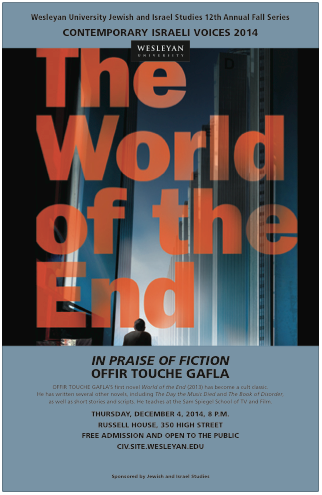 The last presentation in the fall series Contemporary Israeli Voices 2014 is writer and  Schusterman Visiting Professor at the University of Texas, Ofir Touche Gafla, who will deliver a presentation entitled In Praise of Fiction on Thursday, December 4, at 8 pm at Russell House.
Ofir Touche Gafla's first novel World of the End (2013) has become a cult classic. He has written several other novels including The Day the Music Died and The Book of Disorder, as well as short stories and scripts. He teaches at the Sam Spiegel School of TV and Film. In his presentation, he will talk about the creative process and how fiction serves his purposes as well as read from his novel The World of the End. The event will conclude with a book sale and reception to which all are invited.
Many thanks to those who attended this series, whichhas included many diverse, Israeli voices of renowned as well as emerging and promising voices in the film, literature and the arts. Please mark your calendar for the Eight AnnualRing FamilyWesleyan University Israeli Film Festivalwhich will be inaugurated on Thursday, January 29 at 8 pm at the Goldsmith Family Cinema. The festival will include 6 screenings, one every Thursday evening, of the best Israeli films and TV shows. Admission is free and all are welcome. More details to follow later on.
Best wishes, Dalit Katz