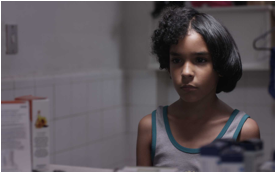 The recent Venezuelan film  "Pelo Malo" (Bad Hair) will be screened today as part of the Hispanic Film Series. We hope to see you there!
PELO MALO [Bad Hair]
Mariana Rondón / 2013 / Venezuela / Perú / Germany / Argentina
A touching and humorous coming-of-gender story that chronicles the life of nine-year-old Junior who lives in a bustling Caracas tenement with his widowed mother. Junior fears he has pelo malo – bad hair. For his school photo, he wants to iron his stubbornly curly mane straight to resemble one of his pop star idols. His mother, unemployed and frazzled from the pressures of raising two children in an unforgiving city, has serious misgivings; she suspects her son is gay. Grandma is more accepting, teaching Junior to dance to one of her favorite '60s rock 'n' roll tunes.
Watch the trailer here!
Where: Goldsmith Family Cinema, Center for Film Studies
When: Tuesday, March 24th, 8 p.m. 
Free Admission 
Sponsored by the Department of Romance Languages and Literatures' Thomas and Catharine McMahon Fund, and the Latin American Studies Program. With support from the Wesleyan Film Series.