Dear Students,
The Fall 2013 WSA Elections are now open at http://wsa.wesleyan.edu/voting. Voting will be open from now until 11:59pm on September 20th. We strongly encourage you to vote, and have your voice represented.
There are 10 spots available for representatives from the Class of 2017, and they may be voted on only by freshmen through the Frosh Election.
There are 7 spots available for members of the classes of 2014, 2015, and 2016, and may be voted on by members of any of those classes through the At-Large Election.
You may vote for as many people as there are spots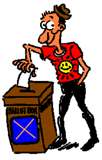 available, but once you have submitted your vote, you cannot vote again.
Your feedback is very important for all of us students here at Wesleyan to make our university what we all want it to be. As always, direct any thoughts, complaints, comments, concerns, etc. to wsa@wesleyan.edu or to any representative to the assembly.
Best,
The WSA Elections Committee
Jacob Musinsky '15, Andrew Trexler '14, Nicki Softness '14