Dear Class of 2017,
You met choreographer Doug Varone and his dancers Xan Burley and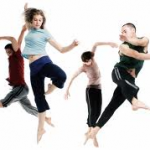 Alex Springer at the Common Moment during Orientation.  They'll be back this week when the company presents two performances at the CFA Theater on Thursday, September 12 and Friday, September 13 at 8pm. If you've never seen contemporary dance before, then this is the performance to see — the choreographer will take you through his process as the performance unfolds!
Naya Samuel '14 interned with them this past summer and interviewed them about the program they'll be performing:
https://www.youtube.com/watch?v=w1FskLgk3cc&feature=c4-overview-vl&list=PLjtd25Vx2LLWJc7IdSA3uigfJHY3ykhS4
Tickets are $6 for students and you can get them at the University Box Office in Usdan, online or at the door.  Details are here:
http://www.wesleyan.edu/cfa/events.html#performing and below:
Doug Varone and Dancers: Stripped/Dressed featuring Rise and Carrugi
Connecticut Premiere
Thursday, September 12 & Friday, September 13, 2013 at 8pm
CFA Theater
Pre-performance talk by Wesleyan DanceLink Fellow Naya Samuel '14 on Thursday, September 12 at 7:30pm in the CFA Hall
Buy tickets online.
"Doug Varone's choreography is finely drawn and operatically rich…"
–-Portland Press Herald (Maine)
The return of Doug Varone and Dancers to Wesleyan is designed to give the audience an intimate look at Doug Varone's work. The first half of the program, Stripped, opens with his masterpiece Rise (1993), with music by John Adams, and the dancers in rehearsal clothes under minimal lighting. Mr. Varone then comes onstage to walk through the creative process that gave birth to his most recent work, Carrugi (2012), deconstructing the dance and showing how he works with dancers to build the choreography. For the second half of the program, Dressed, the company returns in costume and performs the fully-produced Connecticut premiere of Carrugi. Inspired by the winding, narrow streets and alleyways of the Liguria region of the northwest coast of Italy, Carrugi is set to the oratorio "La Betulia Liberata" by Wolfgang Amadeus Mozart. A Breaking Ground Dance Series event presented by the Dance Department and the Center for the Arts.
Pamela Tatge, Director, Center for the Arts