"Wildlands, Woodlands, and Farmlands:
The Past and Future of New England Forests and Farming"
               Brian Donahue                                                                            
Wednesday, September 25, 2013 – 7pm – PAC 001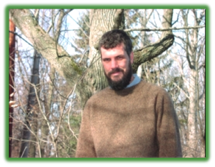 Brian Donahue is Associate Professor of American Environmental Studies on the Jack Meyerhoff Fund at Brandeis University, and Environmental Historian at Harvard Forest.  He teaches courses on environmental issues, environmental history, and sustainable farming and forestry, and chairs the Environmental Studies Program.
Donahue holds a BA, MA, and PhD from the Brandeis program in the History of American Civilization.  He co-founded and for 12 years directed Land's Sake, a non-profit community farm in Weston, Massachusetts, and serves today on the Weston Conservation Commission and the Community Preservation Committee.  For three years he was Director of Education at The Land Institute in Salina, Kansas.  He sits on several other boards including the Thoreau Farm Trust and The Land Institute.
Donahue is author of Reclaiming the Commons: Community Farms and Forests in a New England Town (Yale University Press, 1999), which was awarded the book prize from the Society for the Preservation of New England Antiquities.  He also wrote The Great Meadow: Farmers and the Land in Colonial Concord (Yale Press, 2004), which won book prizes from the New England Historical Association, the Agricultural History Society, and the American Society for Environmental History.  His latest publication is American Georgics: Writings on Farming, Culture and the Land (Yale Press, 2011), an anthology co-edited with Edwin Hagenstein and Sara Gregg.
For more information, please contact Valerie Marinelli, 860-685-3733 or vmarinelli@wesleyan.edu
This lecture is sponsored by Wesleyan University's Baldwin University Lectures, The Mellon Fund for Lectures in Ethics, Politics and Social Issues, The Allbritton Center for the Study of Public Life, College of the Environment, Science in Society Program, Center for the Americas and History Department