Students from ANTH326 "Middletown Materials:  Archeological Analysis" will be excavating at the Beman Triangle this coming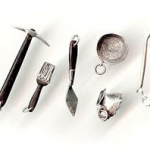 weekend. For those not aware of the history of the site, this was home to a planned African American community, with close ties to the AME Zion Church, from the 1840s through to the late nineteenth century. We have been excavating behind two houses and have been finding a range of exciting materials relating to everyday life from the 1860s through to the early twentieth century, particularly pharmaceutical related artifacts.
If you are interested, we will be happy to introduce visitors to the site any time between 1pm and 4:30pm on Saturday and Sunday afternoon. You will be able to find us behind 21 Vine Street; the excavations are fairly obvious.
If you're interested in doing more than just watching and would like to get your hands dirty, let me know. We have opportunities for volunteers to participate in the project. Please also feel free to circulate this information; we are open to the public, and welcome visitors from outside Wesleyan.
It looks to be perfect weather for being outside and checking out some history.
Professor Sarah Croucher, Anthropology