I started off the summer working full time as a mechanic at an auto shop. I was the youngest worker there, and so I was relegated to mostly only oil changes. My job involved performing safety inspections on all the vehicles, which was a fairly intensive process. I went through a checklist, and inspected each aspect of a vehicle that could "go wrong." By a couple weeks in, I began taking on more responsibilities – some brake and serpentine belt changes, mostly. Working at the garage required a very strong work ethic, and I constantly struggled to keep on schedule (45 minutes per oil change and inspection is not that much time). I guess it's not a typical summer job, as my friends all had internships in fields they were planning on pursuing, however I found the experience extremely rewarding. Not only is it not a typical college student summer job, but it is not a common job for a woman. Multiple people approached me to congratulate me, which, at times, I found a tad condescending, but I appreciated the attempt at sincerity.
In whatever time I had off, I tried to explore Oregon as best I could. In mid-July, my friend and I backpacked through the Diamond Peak Wilderness in Central Oregon, which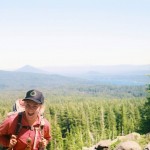 included a climb to a point boasting the "best view in Oregon." We had a 360˚ view of mountains for hundreds of miles. While our water filtration pump broke the first day, and our stove broke the second, we managed through the five day excursion. I just got back from another camping trip in the Mt. Hood area in the Opal Creek Wilderness, an old growth forest with industrial mining equipment from the 1930s scattered between the trees. I'm not working in August, and I'm planning to drive my motorcycle down the Pacific Highway through California, that is, if the 1979 bike will hold up (fingers crossed).