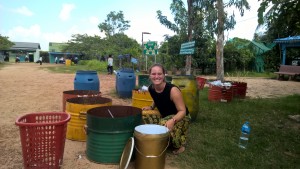 Halfway through sophomore year, while my friends were excitedly thinking about different study abroad options, I slowly came to the realization that I wanted the sort of experience that a study-abroad program would not offer. In place of a traditional study abroad semester I choose instead to take a semester off from Wesleyan and spend four months volunteering in rural Cambodia.
Why Cambodia? I chose Cambodia because, located exactly half way around the world, it is about as physically and culturally distant from my life as an American university student as one can get. I wanted to have an abroad experience that would challenge the way I think. And it certainly has.
In late August, I arrived in Cambodia to begin four months of volunteer work for an organization called Sustainable Cambodia (SC). SC is an Non-Governmental Organization (NGO), created with funding and support from US Rotary Clubs, that works to empower Cambodians through improved education, increased access to clean water, financial support in the form of micro-loans, introduction of more sustainable farming methods and a variety of other projects. In all of these projects SC aims to have a "sustainable" impact, in other words when SC is gone, the villagers will have the skills and knowledge to continue to maintain the projects SC put in place.
Since arriving in Pursat, a small town four hours north of Phnom Penh, I have become involved in many different facets of the organization. One of the projects that I am initiating is a waste management program. Trash is a problem everywhere, but Cambodia, a developing country, has a much different "trash problem" than the US. The trash problem" in the US stems from excessive consumption and waste. In Cambodia, even though people produce significantly less trash than in the US, it is the lack of knowledge and resources to deal with trash that is the challenge. Cambodia lacks any sort of garbage collection service outside of the cities and the garbage services that they do have dump the trash in big piles outside the city, not in properly run landfills. This leaves rural Cambodians with only one choice of what to do with their rubbish, to burn it.
I was perplexed when I first saw piles of smoldering rubbish along the roadside. I have since come to understand that people here have no other alternative, so I am working on providing them another option. My approach has been to implement the classic "reduce, reuse, and recycle" program that we are very familiar with in the US. Through workshops that teach children how to turn their trash into toys like jump ropes and cars, implementing a recycling and composting system in the schools, and helping villagers set up their own compost systems I am hoping to encourage the ideology that trash is a resource, in other words trash does not need to be burned, it can be used again. Hopefully, someday the rural villages will have a safe and effective landfill, trash collection system, and recycling system, but in the meantime getting people to realize the value of their waste is my goal.
Another program I have spent a lot of time working on is the Tuk Tuk Theater. A tuk tuk is a two-wheeled carriage pulled behind a motorcycle, a very popular form of transportation in Cambodia. The Tuk Tuk Theater is a tuk tuk with a flat screen television mounted on the back. Other SC volunteers and I drive the tuk tuk out to the rural villages were we play with the children and provide them healthy snacks. We have also been introducing hygiene lessons to the children before we show them short films on the television that is powered by the tuk tuk battery. For many of the children this is a new experience. Most of them do not have electricity in their homes, let alone a television. It is incredible to be able to give them this experience.
While my experience in Cambodia is far from over, I have already learned so much from the wonderfully kind and generous Khmer people and I hope they have learned something from me. This has, without a doubt, been the most challenging two months I have experienced in my life, but at the same time it has been the two of the best.